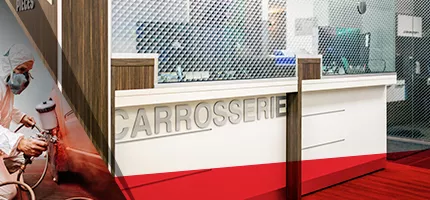 The Best Body Shop Service in Montreal
At Lombardi Honda Montreal, we offer all our customers a body repair service. Had an accident or fender bender? Our service takes care of everything needed to restore your vehicle to its original beauty.
Since the experts at Lombardi Honda Montreal's auto body repair centre know that nobody is safe from an accident, they make every effort to provide customers with the best post-accident service. From the moment a call is received, our staff will take care of everything.
We also strictly follow manufacturer standards, which is why at our shop in Montreal, we're proud to say we use genuine Honda parts, so you can rest assured that the parts we install will be working for your vehicle, not against it! We also offer a 24-hour towing service, so no matter when bad luck strikes, we can be there to help. Finally, repairs we perform are guaranteed for life, so you can rest assured that we know what we're doing – when we fix your vehicle, we make sure it will last!
So what are you waiting for? Come and visit Lombardi Honda Montreal's auto body repair shop today! For more information about this and other services offered at our dealership in Montreal, give us a call today at (514) 728-2222. You can also use our online contact form, and one of our representatives will be in touch with you as soon as possible.